National Geographic Bachelors Abroad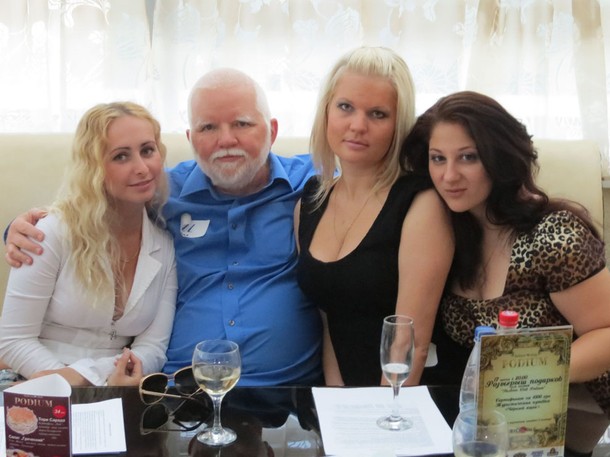 A new reality show is trying to change the public perception of "Mail Order Brides." The show is called "Bachelors Abroad" and follows along as a tour group of single bachelors travel around Ukraine in search of a bride.
Right off the bat we are introduced to John Adams and his company, A Foreign Affair. John leads the group of guys on this tour of Ukraine and is also there to help the clients when they are having trouble. We see as John addresses the entire tour group and offers advice he has gathered over many years of hosting tours. He tells the guys to remember not to get overwhelmed; they didn't pay good money and travel halfway around the world to sit in their hotel rooms. They need to make dates, attend the socials, and put themselves out there.
"Bachelors Abroad" is all about the international dating tour experience, but we only see it from the perspective of three of the tour clients in this first episode. Before they even get on the plane, we get to meet some of the guys. Joe, in particular, seemed more than happy to bring us into his home, describe his life, introduce us to his daughters, and express to the audience exactly why he is choosing to search for a wife in Ukraine. Other than the fact that he thinks they are beautiful, Joe is looking for a woman who is family-oriented, has traditional values, and is actively interested in marriage.
What was the advice Joe received from his daughters? Basically, just don't bring back a woman who is younger than they are!
Once they arrive at the first social, we immediately get a sense of their personalities and how they will most likely fair on the tour. Bob obviously wants to have a good time, constantly moving to a different table of beautiful women who were much younger than him. Bill also spent time with women much younger than himself, but was not as bubbly as Bob was. On the contrary, he spent much of his time talking about his previous marriage and didn't seem to make very strong connections.
The bachelors made dates with some of the women they met at the social and we got to follow along as they spent time with them (and the translators). Joe went on a couple of dates, one of which seemed to go incredibly well. By the end, him and his date were sitting closely on the same side of the, barely needing the translator to help them communicate. Bill, on the other hand, had a somewhat awkward date. They didn't seem to connect over much of anything and in the end, they decided to keep in touch but didn't have much passion or chemistry. We watch Bob go on a "shopping date" with the woman he spent the most time with at the social. Although they have a small disagreement on which items to purchase, they look like they have a good time.
In the end, all of the guys had met women they said they would keep in touch with and possibly come to visit again. Hopefully, some of those relationships will work out and we will be able to watch as they are reunited once again!